Tag: PTSN
by admin on Dec.31, 2009, under Politics, Technology
Wow talk about a huge topic to cover. This would be so vast it would make the Analog to Digital TV switchover look like a cakewalk.
Before I dive into this (I'm lucky today is a slow day) I want to clear up some minor misconceptions:
1. AT&T is NOT talking about removing physical wiring and running everything over wireless or cell networks!!!! (!!Very important misconception!!)
2. This will have no impact on your DSL or cable internet. It is merely moving analog circuit switched POTS lines to the same technology that the internet runs on.
3. POTS is technically already mostly digital from end to end. Only the final mile is converted back to analog. But it's in a (nearly) lossless conversion and still circuit based, not packetized.
Now some quick definitions:
POTS – Plain old telephone system. Using switched circuits it creates a single end to end connection between two points (usually phones).
PSTN – Public Switched Telephone network. The network that runs the POTS.
LEC – Local Exchange Carrier. Basically your local phone company.
"Final Mile" – This refers to the connection from your neighborhood switch to your individual home. Once you leave the final mile you're into the LEC's network of phone connections.
Backbone – The main connections that connect all the neighborhood switches together and link all the LECs themselves together. AT&T and the few other long distance carriers control most of the backbone connections between regional LECs.
VOIP – Voice traffic that is divided into packets and transmitted in the same manner as internet data.
So where are we at?
Basically AT&T is tired of maintaining the POTS network. POTS requires an end to end connection between the two communicating points. In the past human operators connected the physical wires based off the circuit a person was calling (people over 50-60 years old might remember phone numbers that were like "KL425"). Later automatic physical switches made connections based off numeric a phone number. Most recently digital switches use computers to redirect calls based off the number. But even though it's digitally switched the effect is still creating a single, 64kbps of data sized, end to end circuit.
This is what AT&T wants to change.
Now in the era of internet we don't use a fixed circuit, the data stream is chopped into packets, each is individually addressed, and then sent on their way. The stream often follows the same path but doesn't need to. It can arrive through different paths across the backbone, be put back in order and re-assembled at the other end. Any lost packets can just be resent.
Voice can be compressed and sent along the same as internet data in a VOIP connection, but some of the above situations can break VOIP. VOIP is a streaming technology, if a VOIP packet is lost that part of the conversation is lost, unlike loading a webpage you can't wait for the data to be resent. The VOIP traffic is also compressed, depending how much it's compressed the quality can drop significantly as parts of the voice stream are eliminated. G.711 basically just digitizes the stream and does almost no compression so the stream is 64kbps. G.723.1 can compress that down as far as 6kbps but call quality loss can be noticeable.
Now some reasons for AT&T's desire to eliminate POTS become clear.
First is the fact that even through IP and circuit switched voice can run on the same equipment and same cables, they are two completely separate and incompatible networks. They need to go through special converters called DSP's to be made digital and packetized (or un-packetized), and special systems need to be programmed to re-address for the new network. It's much easier to consolidate everything into one system to maintain and monitor and adjust.
Second, compression make better use of the backbone bandwidth; instead of using up 64kbps of a fiber line per call you can get away with 16kbps or as little as 6kbps. That means for every one circuit switched call taking up fiber bandwidth you can fit 4 VOIP calls.
But there are some problems too.
Voice can be packetized into an IP network with no problem but it needs high priority to maintain the voice stream since voice needs to be a consistent stream and voice packets can't arrive out of order or late. Too many dropped packets cause the voice call to stutter, and too much compression distorts the sound (usually sounds "tinny"). VOIP calls have a margin for error of about 200ms before the connection will likely drop.
That old POTS line has also been backwards compatible with equipment made as far back as the 1940s. If you get a simple old phone from before 1990 you'll probably notice it doesn't have a power cord. The power was actually provided at the phone company and backed up using massive banks of batteries in its basement. That means in a power outage most old POTS lines and phones will still work, great for emergencies and natural disasters.
Some things require high quality audio for communications, notably modems and fax machines. That squealing sound you hear when a fax or modem connects is 1s and 0s converted into an analog sound and blazing out a thousands of bits per second, usually 56 thousand per second to be exact
. When VOIP compresses with the idea that it's compressing voice data and will eliminate the sounds it doesn't think the human ear can hear, unfortuenately modems use a much broader frequency range for data. Plus modems and faxes don't know what to do when a stream of data arrives late or doesn't arrive at all. A lost VOIP packet can screw up the data stream and cause the modem to disconnect.
So when AT&T talks about eliminating the POTS line we're talking about some major changes. Not just changing how voice crosses the backbone, or how AT&T does business with other LECs but eliminating modems, faxes, and all those non-VOIP phones.
I know many people won't mourn any of the above but let me fill you in on some of what I do for a living (for AT&T no less).
I setup and upgrade business class internet connections into AT&T EVPN MPLS cloud. Don't worry about all the acronyms, simply put we provide connections between the multiple sites of a business. If you work at branch store or office and connect to a corporate site then we connect you together over AT&T's backbone. Once up and running we literally are the "internet cloud" and transparent to the users. A customer doesn't see any of our massive network, just a direct line to all their other company sites and connection out to the internet.
My job specifically is configuring the AT&T equipment on the customer site. I don't physically go there and install it, there's a separate onsite tech who puts it in and turns it on then my team connects in and configures the equipment.
The problem is that since the equipment isn't setup just plugging it in and turning it on won't connect, you need another way in that isn't dependent on that data connection working. So by using a POTS line and a modem you can connect into a router as if you were physically there. No matter what is wrong (other than the power out) you can get access through the modem from anywhere in the world just by dialing the number (and going through massive passwords and encryption).
In fact the modem is integral to the reliable up-time for the router and is required by AT&T to have in addition to the data line itself. If any emergency or outage happens to the onsite router for the customer; first it should be able to reload and fix itself, but if for some reason it's erased itself AT&T will see it disconnect, will connect through the modem, reload the configuration, and be back online in minutes. Without the modem we'd need a tech to go onsite, directly connect and fix the issue. Factoring in time to call for a network down, schedule a tech, travel out to the site, and fix the issue, you can be looking at anywhere from 4 hours to 48 hours of down time.
When dealing with government entities and Fortune 500 companies the difference between 10 minutes and half day downtime can millions of dollars in lost production and sales. The difference is having a modem onsite so a tech here in Utah can fix the site remotely.
So it's pretty ironic that AT&T itself is calling for land line elimination when my AT&T department requires them for service. Obviously a situation of a company being so big the left hand doesn't know what the right hand is doing.
The switch from POTS to IP is inevitable
I do think that some day the circuit switched and packet switched networks will be merged. But a lot will need to happen to make that possible:
Everybody needs to replace their phones with VOIP phones, or providers need to put massive conversion facilities in the final mile.
Providers need to find out how to provide local 911 and emergency service when power goes out and the infrastructure is damaged.
Modems and faxes need to be replaced with a similar reliable technology that is compatible with VOIP compressions and missed packets.
Basically what AT&T wants isn't impossible and it is inevitable. But the switchover would make the Analog to DTV switchover look like nothing. It's one thing when you're changing over something recreational like watching TV. POTS landline elimination is a deeply ingrained infrastructure technology that will be a pain to switch over. It's like saying that we're not going to use asphalt on our roads anymore, all asphalt roads would need to be changed over to concrete because new cars don't work on them.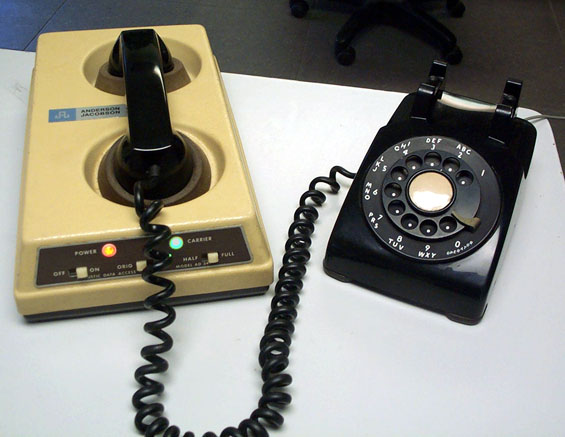 But the technology is there, and once a few issues are resolved it's much better to make the switch instead of clinging to old technology.
View Comments
:AT&T, Modem, POTS, PTSN, VOIP
more...