by Kerensky97 on Aug.06, 2010, under Handheld, Internet, Technology
I could point to their failed and horribly thought out Garmin Phone as an example but this is something much more basic that all their new products have.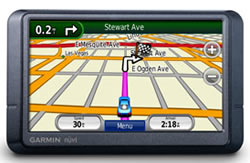 About a year and a half ago I got a Garmin Nuvi 250, the price on them dropped to $100. You may have noticed on the road that A LOT of people have GPS in their cars now. This recent price drop is why.
Anyway about a week ago it told me to update the maps. Makes sense, there are a lot of places I drive that have new roads not on their maps. I hit cancel and forgot about it. Then today it nagged me again to download maps. So I go online and start the process of updating the GPS.
First off plugging the GPS into USB killed my keyboard. I don't know why. I had to plug the keyboard into a different port to get it back, at least it didn't fry it like the external hard drive I had a few years ago.
Then to get the GPS to update you have to goto Garmin's website and download a browser plugin that detects the GPS. This involves a lengthy registration process I didn't want to do. Last thing I want to do is give my email address and physical address to YET ANNOTHER company to spam me.
Now I had the plugin running and the GPS plugged in. But it wouldn't detect the GPS
Shutdown Firefox.
Move the GPS USB to another port.
Keyboard dies again.
Move the Keyboard back to its original port.
Restart Firefox.
3 Minutes later the GPS finally connects.
Finally the GPS is discovered by the browser program.
"Click here to check for updates"
Browser crashes.
Restart firefox.
"Click here to download update."
Browser crashes.
Restart Firefox.
Finally the update goes through and I check the Maps update. There are two options, first is a lifetime update service that costs $120.
Yes One Hundred and Twenty dollars.
Or a one time update that costs $70.
Keep in mind that Garmin street maps aren't all that great. When the GPS was new a lot of the streets were already out of date. Plus I'm constantly aggravated by the fact that the maps never start out zoomed to the level where you see surface streets, I always have to zoom in one level.
It also tries to redirect me onto streets that I know are slower. On the way to Bear Lake instead of taking I-15 north and going 75MPH (posted) it wanted me to take a back highway to Brigham City. Admittedly highway 89 is a beautiful drive and lined with fruit stands from all the nearby orchards.
But it's slower!
All these gripes with the GPS and they want me to pay for a map update that costs the same price as the whole flipping GPS itself. In fact I can just buy the newer model for the same price and I'm sure it would have a more up to date map in it.
Meanwhile my Android phone does all the features the Garmin does. But it also gives me:
Maps that are as upto date as Google's online database.
An application that updates over the air bi-monthly.
Voice search.
Satellite view of the surrounding area.
Current local traffic conditions.
An ETA adjusted for traffic.
Street view pictures of the intersections I need to turn at.
Current location of any friends and family with Latitude.
The ability to search and route to any nearby business, gas station, or ATM.
And best of all it's FREE!!!
So as soon as I find a good dashboard car mount for my phone I have a Garmin Nuvi 250 GPS for sale. Then it's good bye and good riddance to Garmin.